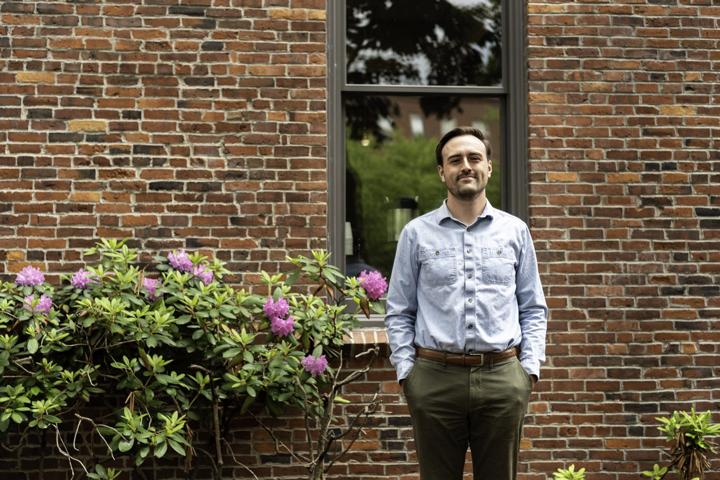 In the lead up to the summer season, it's fitting that we're shining the CES Spotlight on Max Webb, Managing Director of Pricing. Not only does Max ably lead our impressive Pricing Team of five, he is also one of our resident experts on weather trends, which have a major impact on market trends and energy commodities prices. In addition to monitoring, forecasting, and reporting on weather's influence on the markets, Max's responsibilities at CES include energy procurement, data analysis projects, and budgeting for full-service clients. Recently, Max shared a bit more about his professional background, his experience in the energy field, along with his interests and people and experiences who have influenced over the years. 
How did you first get involved in the energy sector? And why energy?
My major at Penn State was actually energy focused, it's called Energy, Business & Finance. But energy wasn't always the plan. I initially was planning on being an engineer of some sort and about halfway through, I realized that wasn't working out for me. Just before my junior year, I took a step back to consider what I really wanted to do with my career. Growing up in Central Pennsylvania, I was surrounded by the natural gas shale boom, so I'd always been around energy, it was always in the back of my mind. Then in college, I knew a few friends in the Energy, Business & Finance program, and I heard good things about the major and the industry through them. It also didn't hurt that a lot of my prerequisites and engineering course work counted toward the degree, which was a big benefit. Plus, in high school and in college, I started to get interested in climate change, so the idea of getting an energy degree and working toward the goal of clean energy transition sounded like a great fit for me. When I changed majors, my coursework and the education came a lot more naturally than differential equations, physics, and chemistry, which helped cement my decision. In the end, the idea of working in an industry and hopefully in a role that was working toward the benefit of our world, that was really appealing to me.
What was your initial impression of the energy field and how has your viewpoint changed over the years? What have you learned?
My initial impression was sort of intimidating. There's a lot to learn, especially in the first year or so in my role at CES. It was a lot of learning and new concepts. The energy industry is ever-changing, and the markets are tricky to get a good grasp of. Off the bat, it was a lot. I remember sitting in on our Friday morning calls and everything was going over my head. It took a while for it to click. Over time, I started to get the hang of things and the pieces started to come together and click. Once that happened, I felt a lot more comfortable in my role and in the field. Big credit to CES and the job we do at educating and training. Even though I majored in energy, 99 percent of what I know, I learned here at CES. There's always something new or evolving right around the corner that keeps the energy industry fresh and interesting.
What has surprised you most about working in this industry?
I'm often surprised at how important and large the energy sector is from a global perspective. For instance, for our clients, energy considerations take up a lot of their time and resources; it's an important piece of the puzzle for them. Not to mention global events and the energy ramifications when thinking about things like OPEC, Russia/Ukraine conflict, etc. While it can feel big in those examples, I find it interesting on the flip side of how small it feels from a relationship and networking perspective. Whether you're in meetings, networking, talking to suppliers or chatting internally with team members, I am surprised at the connections that exist and often seem to come out of the blue. Someone always seems to know someone else or they've worked with a certain client or company. It's a small world, so to speak.
You're about to celebrate your 7th anniversary with CES. How has CES influenced your life and professional trajectory? What keeps you engaged and why CES? And what do you enjoy most about your work?
This was my first job out of college, and it gave me my start. I could not have chosen a better company to start working for. During these seven years, I've held a couple of different roles, with increasing levels of responsibility, which has taught me a lot about energy from all different angles – pricing, analytics, marketing, sales, account management. My time here has also taught me a lot about myself. Starting out in an entry level position, working my way up to Associate Manager, then Director, and now Managing Director, I never quite knew it was in my path to be a manager, but the way it's evolved proved it was something I was capable of doing and I find rewarding. As a manager, I really enjoy leading by example, and being a resource for colleagues at CES for work and non-work-related challenges or problems.
What keeps me engaged is definitely is the ever-changing landscape of energy. Every few months, there's always something that comes out of left field that creates new challenges or opportunities.
I still really enjoy the day-to-day core responsibilities of pricing and all the tasks that I first started doing in my early days here. I also enjoy expanding the products and services that the Pricing Team can offer. For instance, creating new visualization tools that didn't exist just five years ago. A lot of thought and planning goes into existing and new tools and products that benefit our clients. I look forward to being involved in our continued development of these products and services.  
Also, from a client-relations perspective, I enjoy troubleshooting issues that can arise in the pricing/contracting process. It's satisfying resolving those issues and getting a positive outcome for our clients. That's an important piece to me, our client's best interests should always be top of mind.
Share about someone who has influenced you and has supported you over the years?
A few different people come to mind. My parents definitely taught me a strong work ethic and gave me encouragement to achieve some of my goals. They helped push me out of my comfort zone and supported the move from PA up to Portland. In hindsight, they probably just wanted me out of the house, but I appreciate the help either way.
Of course, Genae, my partner, has been a strong influence and my number one supporter. She has full confidence and belief in me, which is really invaluable. Her constant support, encouragement, and guidance helps me every day.
From a professional standpoint, Linda Hyatt, my former boss, and the previous Managing Director of Pricing at CES, has a big influence on me. Linda was great mentor – she taught me a lot of what I know today. Linda always had my back and encouraged me to learn everything there was to learn and helped foster my growth at CES. I'll always appreciate her help and shared knowledge over the years.
What would you tell other young professionals who are trying to understand the energy markets and who wish to enter the field?
Start with a good, basic understanding of economics. That's always helpful. Then, be patient as you get a handle on the market dynamics and influencing factors that play a part in the larger energy picture. If you have a niche interest in a certain piece of the energy industry – like climate change – start there and grow. It's all interconnected. For those who wish to enter the field, give it a shot. As I previously said, it can be daunting because it's a complex industry, but if you're patient and stick with it, it's rewarding.
What do you do when you're not working? What are your interests?
I'm a big sports fan, mainly Penn State football or the Philadelphia Eagles, but you'll find me watching just about anything sports related. Also, I'm a bit of a home body, I play a lot of video games and watch a lot of television series and movies to get through the Maine winters. In the summer, I'm usually either golfing, at the beach, or out camping or hiking.
Photo by Nina Callanan