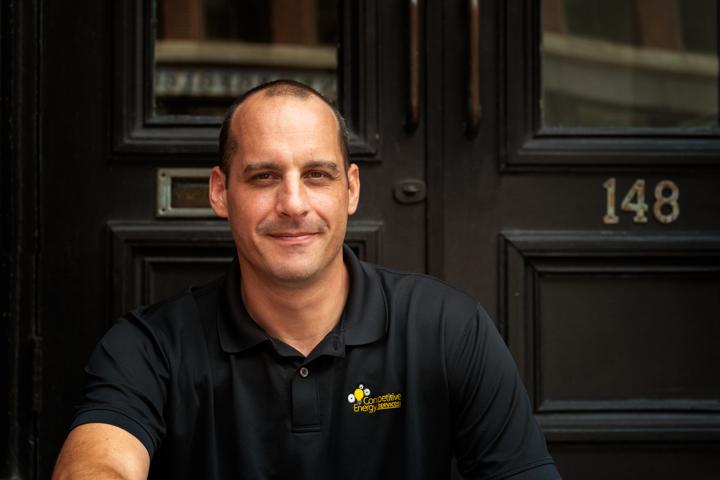 Zac Bloom, Vice President, Head of Sustainability and Renewables recently celebrated his 10th anniversary with Competitive Energy Services. Zac joined CES in 2012 and spends his days primarily consulting with universities and large-scale commercial clients on energy procurement strategies, utility tracking, and budgeting. An invaluable human resource at CES, Zac assists clients with sustainability consulting such as greenhouse gas accounting, climate action planning, renewable energy procurement, and energy master planning. In addition to his work in sustainability and renewables, Zac also leads CES' Data Services Team, who develop and manage comprehensive tracking and reporting systems that help CES clients understand and navigate every energy initiative they wish to undertake.
"Zac Bloom is an irreplaceable resource for CES. Zac's contributions touch almost all operations at CES and are too numerous to itemize. One area that really stands out is Zac's expertise with renewables and sustainability. Our capabilities in this area have grown rapidly, thanks to Zac's proficiency and his ability to help our clients navigate the complex and rapidly changing renewable and sustainability landscape. Zac has also taken responsibility for leading our Data Services team – another high growth center at CES. Collecting, organizing, and reporting on the mountains of data we receive each day on behalf of our many clients is an enormous task; we are very lucky to have Zac's daily guidance in this area. Finally, and most importantly, Zac is a good friend and elder member of the CES work family. His leadership as part of our senior management team and his contributions to our company culture over the past decade have had a significant and very positive influence on CES. Happy 10th anniversary Zac. Thank you so much for all you do!" – Andy Price, President & COO
Many of you know and work with Zac and have come to rely on his trusted guidance and direction over the years. Join us in congratulating Zac on his milestone anniversary with CES. In a recent interview, Zac shares a bit more about his career trajectory, interests, and inspirations along the way.
Tell me how you first got involved in the energy sector?
I first got involved in the energy sector when I decided to leave the finance industry and went to UMass Amherst to earn my graduate degree. My thought at the time was that the work I was doing in finance wasn't sustainable and not helping the greater good. I wanted something that I was more passionate about. At first, I was not actively looking to get into the energy sector specifically. Instead, I was looking to get into the sustainability world with a focus on the built environment. I realized quickly that renewable energy was the biggest lever for organizations to make progress on cutting carbon. As luck would have it, I met Andy Price, President & COO and Keith Sampson, Senior Vice President, Energy Services at a presentation at UMass where one of my mentors in the facilities department (Ludmilla Pavlova) asked me to present my master's work to all the UMass campuses. Coincidentally, CES was in attendance as they were presenting to the UMASS System Office after recently being hired as the System Office energy consultant. Shortly thereafter, I was offered a job to work at CES and my larger goal to move into more sustainability-based consulting came into clearer focus. Before I could do that though, I needed to understand the dynamics of the energy market as they are inextricably linked. That was my foray.
What was your first impression of the energy field and how has your viewpoint changed over the years? What have you learned?
My first impression was that, after 10 combined years of graduate school and working in the finance industry, I was somehow back in the same position – dealing with commodities and volatility. Through that collective experience, I learned that most of the facilities and utilities personnel we dealt with on energy procurement decisions were also directly or indirectly in charge of the review process for renewable energy initiatives. During my first couple of years at CES and while I started to integrate sustainability viewpoints in client meetings, it wasn't until I cultivated more expertise in the retail and wholesale electricity markets that I truly understood the landscape. I was lucky enough to work for practiced energy veterans like Andy Price and Rich Silkman and, ultimately, concluded that electricity and renewable energy are one and the same and you cannot pick one over the other. Having a deeper understanding of the components of electricity costs and programmatic fees borne out of legislation not only allowed me to understand the risks in retail electricity contracts, but also signaled opportunities from the enabling legislation for things like energy efficiency and virtual net metering and vice a versa.
What has surprised you most about working in this industry?
I had expected – like other professions and fields – that the demographics of our energy industry would mirror the demographics of our country. At first it didn't. Over the last decade, by and large, that demographic has started to transition quite a bit more with a focus on STEM education and people retiring. Today, the demographics are on their way to becoming more similar. That diversity of thought and experience and the sharing of ideas and solutions is helping to push us forward in legislation at the federal and state level and bringing impactful ordinances at the municipal level.
Outside of that, the most surprising thing is, there never is a finish line in this industry. There is no defined, absolute end point where experts stay experts. It keeps changing and evolving. A lifelong energy industry veteran that retired 20 years ago – if he or she were to start working again today – would find this market utterly foreign. It would be like Rip Van Winkle waking up from his 20-year slumber. For me, it comes down to really understanding the system and staying current on what those variables and levers are for change and recognizing that forecasting anything with complete certainty is a fool's errand. The variables involved between political appointees, rulemaking, economic factors, commodity volatility, and nowadays supply chain impacts from a global pandemic there is no certainty. That is not to say we can't make prudent decisions with the available information we have, and lessons learned from past cycles. The more informed we are collectively, the better position we put ourselves in to advise during times of uncertainty.
You've been with CES for 10 years now (Happy Anniversary!). What has kept you engaged for so long and why CES?
Two separate answers. First, what keeps me engaged is the ability to wear multiple hats. To never find myself stuck doing the same thing every day, day in and day out and having the ability to switch gears from client facing account management, to internal business decisions within my department, while also stepping into a leadership role within CES that allows me to focus on people and culture.
Second, the ability to provide a much larger impact on the world from a sustainability standpoint than I could ever do on my own personally has kept me deeply engaged at CES. I'm not just advising companies and universities on what steps they could take to reduce their emissions. I am actively going through the same steps with my family. When the useful life of my car and heating system were nearing, my wife and I decided to get an electric car and heat pumps. After the roof was replaced at our house, we decided to have solar installed. We have reduced/eliminated the majority of our annual carbon footprint from these actions and we are very close to our scope 1 & 2 emissions being carbon neutral. When I think of the many municipalities, universities, and Fortune 500 companies that we work with though, the impacts I can make on my own carbon inventory is about a millionth of the size of my clients' carbon emissions. Together, we are actively working to find good projects that are already operational or in the planning phase that will reduce their collective emissions by hundreds of thousands of metric tons annually – and that is one of the most fulfilling parts of my job and also what keeps me up at night. Knowing that decisions that our clients are making on energy and infrastructure will likely still be around in the built environment 30 years from now and that it can make such a large impact. Part of our job in this regard is finding the right projects to move forward with. 
As for CES, I've never met people in the business world until I started working here that care so much about the value we provide. We are a for profit company for sure but have passed on numerous financial opportunities because they did not pass the stress test of leaving us vendor neutral, technologically unbiased, and providing a value add to our clients. Our collective word and reputation are put above all else. This comes through in our ethos, our culture, and the decisions we make every day.
Share about someone who has influenced you and has supported you over the years?
My wife Sarah who is very much a caregiver and works in the Developmental and Behavioral Pediatrics field utterly inspires and supports me. She gives so much of herself back to our children and is a true safety net for our local community and has also given a lot of her time and thought to me over the years. I would not be where I am today if it was not for her. I couldn't have worked the extra hours or traveled for business or taken on the extra projects without her support and consent, and where and when I have the ability, I give back to her so that we collectively can have better professional growth opportunities and provide for our family and also to support each other mentally so that we have a nice work life balance for each other and our family.
How has CES influenced your life and professional trajectory?
CES has given me the opportunity to be integrated into a field that I am very passionate about. CES has also instilled and widened my intellectual curiosity both about sustainability but more recently the trials and tribulations of the business operation side and what it means to give back to your colleagues and allow them upward mobility and opportunities to grow and provide value.
What do you do when you're not working? What are your interests?
When I'm not working, I am trying to keep up with my daughters, Olive and Imogene. Making sure that I am spending enough time with them and devoting myself to their growth, enjoying their senses of humor, and time willing, getting an opportunity to do yoga or go rock climbing, cycling, experiencing developmental milestones, and memory making with my wife and my kids is very important to me. In a world of deadlines and work responsibilities, the most important thing to remember when the workday is done is you need to be present with your family and loved ones and enjoy the time you have together.  
Photo by Nina Callanan