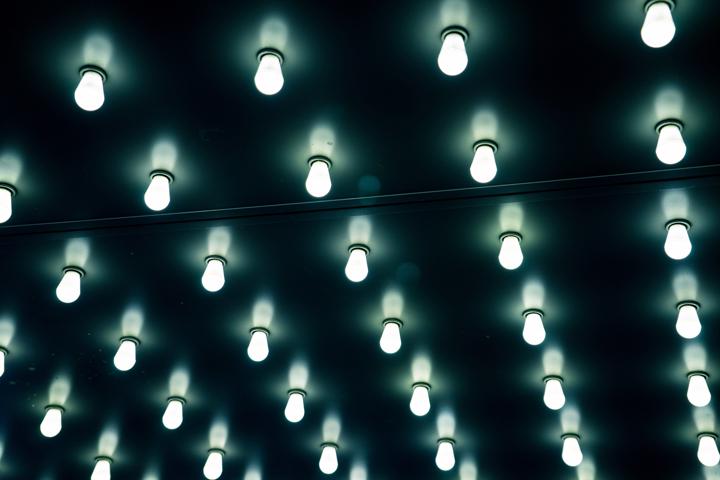 By Simon Pritchard, Director of Analytics
Since Dec 6, 2021, the New England electricity grid operator (ISO-NE), has had a press release stickied at the top of its news release website: "Harsh weather conditions could pose challenges to New England's power system this winter." The release discussed the primary takeaways from the ISO's winter outlook, and flagged a heightened concern for system reliability this winter as the challenges posed by global fuel pricing and supply chain disruption could put pressure on a long-standing regional fuel security issue. Although natural gas is the region's dominant fuel used for power generation, it is also the primary heating fuel for much of Southern New England, and the severely constrained regional natural gas pipeline system serves heating demand first and foremost. On the coldest days of the year, when that demand for heating fuel spikes, the region feared it may not be able to rely on the usual backstops of liquified natural gas (LNG) and oil to make up a power generation shortfall if no LNG tankers divert from their route to higher prices abroad, or freight labor shortages limit the availability of emergency liquid fuel deliveries. The report raised the prospect of implementing emergency actions in a colder than average scenario, measures such as emergency imports, demand response calls, and in the most severe circumstances, controlled outages, a potential first in the two-decade history of ISO-NE.
Given last year's devastating winter event in Texas, in which a sustained period of severe cold caused widespread generation and grid infrastructure failures across the state, killing nearly 250 people, this notice understandably received more attention than it may have previously. This event, along with other recent grid outages in California, have been watched closely by grid operators around the country and has prompted more focus on reliability concerns. Fortunately, New England's energy infrastructure is well-accustomed to the effects of severe cold, however the potential fuel supply challenges raised in the report pose legitimate concerns that could exacerbate the fuel security and reliability issues that ISO-NE has been trying to address in recent years.
Winter Status Update
While winter is by no means over yet, the conditions so far merit a review of how the grid has performed in light of ISO-NE's concerns. January brought some of the colder weather that New England has experienced in recent years. According to National Weather Service data, Boston experienced the lowest average monthly temperature since January 2009 (27.4F), the highest monthly snowfall total since February 2015 (36.4 inches), and the lowest daily minimum temperature since January 2018. While the average conditions for the month were significantly below average, short stretches of extreme cold and severe weather were punctuated by milder conditions (not that it really felt like it!), giving the grid a little bit of a break between events, avoiding the prolonged periods of extreme conditions that could prevent key reliability activities such an on-site fuel storage replenishment. While ISO-NE did issue two operational alerts for generators and transmission owners during weather events on January 11 and January 28, end-users were largely unaffected (storm related local distribution outages notwithstanding). ISO-NE cautioned against dismissing further risk to the system in a recent open letter from CEO Gordon van Welie, noting multiple system disruptions, including a major nuclear outage and restrictions on major transmission imports from Quebec and New York, that occurred during a two-week period in January and could have easily caused the need to take emergency actions if frigid temperatures and storms had been sustained over that time period.
What van Welie also noted in his letter, and what we saw over the course of January cold spells, was the role oil generation plays to meet power demand during winter events. In January 2022, oil generation from a combination of dual-fuel natural gas plants and stand-alone plants made up 12% of the grid generation mix across the region. This compares to 0.2% during last year's much milder January, and resembles the 11% seen in January 2018, the last winter of sustained cold. The remaining coal generators in the region also showed up in January, though not as starkly, making up 1.7% of the monthly generation mix. While the generation that oil and coal provide is currently critical to meeting the needs of the power system during these colder weather events, that role, and the greenhouse gas emissions that these generators emit during these periods, conflict directly with the policy goals of New England states. As legislatures pass and implement laws to drive the transition to a fossil-free grid, the challenge of balancing this renewable transition while keeping the lights on is at the forefront of New England power system planning. 
Figure 1. January 2022 ISO-NE Generation Mix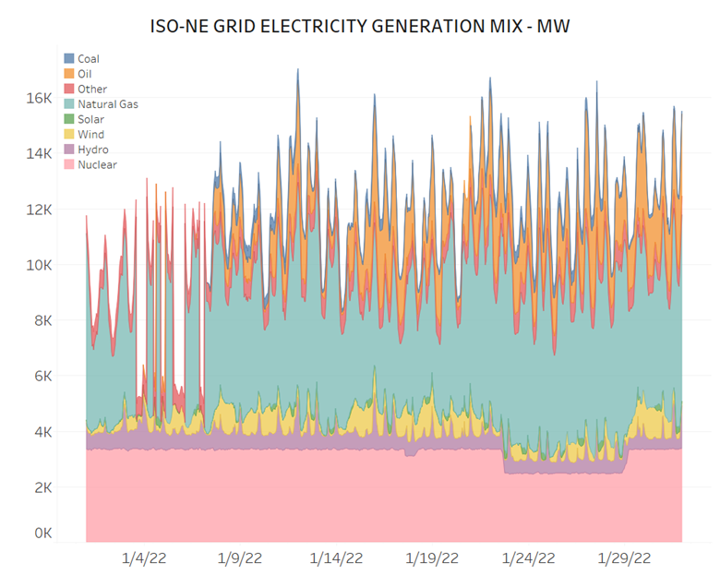 Looking Ahead to an Uncertain FCA 16
The role of fossil-fuel generation in an increasingly renewable future is getting attention as ISO-NE conducts the latest Forward Capacity Auction ("FCA") . Each February, ISO-NE holds a market-based auction to procure the generation capacity needed to meet forecasted system loads three years into the future. This procurement ensures that when the thermometer climbs above 90 and every air conditioner in the region is on full blast, the system has enough capacity available to meet demand. The auction starts at a price ceiling, benchmarked based on the revenue needed for a new natural gas generator to enter the electricity market, and accepts bids at progressively lower prices until the ISO's required capacity is reached, at a final clearing price. Generators that clear this FCA will receive revenues based on that auction's clearing price for their capacity to generate electricity during that peak period three years into the future. Those revenues are paid by ratepayers, as a charge based on each end-user's contribution to the annual system peak hour.
On February 7, ISO-NE conducted FCA 16, to procure capacity for the 12-month period from June 2025 to May 2026. In most years, the results of the auction are published rather quickly, and those results inform our projections of what end-users in New England are likely to pay for electricity in the future. This year, those results will be delayed due to 11th hour legal developments.
In November 2021, ISO-NE filed to terminate its forward capacity contract with the Killingly Energy Center, a 650 MW natural gas plant in Northeast Connecticut that holds the distinction of being the only new proposed utility scale fossil-fuel generator in New England. Killingly has participated and was awarded capacity in each of the last three FCAs. As a result, Killingly will begin receiving capacity payments this June. However, due to permitting delays, construction on the project has not even started and the plant is currently projected to come online in 2024. Obviously, it will not be meeting its capacity obligations any time soon, leading ISO-NE to file the termination with the Federal Energy Regulatory Commission ("FERC"). FERC accepted the termination in January and ISO-NE, as well as the participating generators (and all of the energy nerds), had been preparing for an FCA 16 without Killingly. Continued growth of price-competitive renewables, and a lower capacity requirement in this auction led many to believe that this FCA could yield the lowest clearing prices ever, passing FCA 14  from two years ago. However, just three days before the auction, the DC Circuit Court of Appeals issued an order staying FERC's approval of the termination. Killingly had filed a petition for rehearing of FERC's decision to approve the termination, and until the outcome of that petition is decided, Killingly's FCA participation remains alive. Given the plant's renewed eligibility, ISO-NE adjusted course and the FCA 16 was run with two outcomes, one with Killingly, and one without Killingly. Each set of results, and clearing prices, will remain confidential until ISO-NE receives guidance from FERC on Killingly's fate.
Normally, we start to alert our customers to the expected impact of the FCA results on their future electricity costs in the weeks following the auction. This year, that won't be the case.