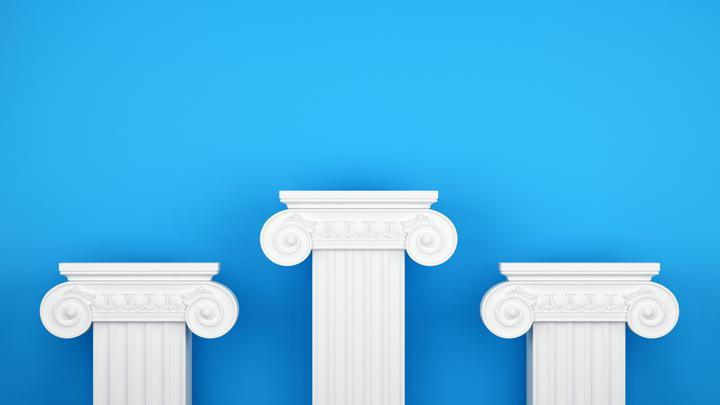 By Andy Price, President
Each December Rich Silkman (our CEO) and I take a moment to reflect on the year past - and set goals for the new year ahead. It has become a tradition to share our thoughts in a letter to all Competitive Energy Services staff. A condensed excerpt from our December 2021 company letter is included below as this month's blog.
This year we start by revisiting the CES origin story and highlighting why we still get excited about coming to work each day after 20+ years. From the newest member of the CES team to those of us that are…less new, it is important to reflect on our purpose and our company principles.
Simply put, CES enables clients to achieve their energy and sustainability goals. This has been our purpose, our reason for being in business, for the past 22 years. We are the independent energy experts, and our identity is inextricably tied to three pillars: our independence, our market expertise, and our unwavering focus on being a long-term trusted partner to our clients.
Independence. CES has always worked exclusively on behalf of energy end-users. This has puzzled and confounded many commodity suppliers, equipment vendors and competitors over the decades. We lost count long ago of the number of "opportunities" to align ourselves more closely with one supplier or another that hoped to curry favor with CES to increase sales to our clients. Of course, the trust of our clients depends entirely on our independence of all such influences. We have passed up every such "opportunity" in the past and will continue to do so in the future. If there is ever even the possibility of a conflict of interest – we will always disclose it fully and let our clients decide how best to proceed. Our independence is sacrosanct and critical to the long-term client relationships we have worked so hard on over the years.
Expertise. Just as central to our identity is our collective energy market intelligence. Energy markets are dynamic, and it is extremely difficult to maintain the knowledge required to call ourselves experts. The difficulty grows as we enter new markets, offer new services, and increase the number of clients we work with. Luckily, this is an area that really distinguishes CES from our competition. The never-ending task of staying current on changing market conditions and policy is also what makes our day-to-day work so fascinating. A culture of academic rigor and exceptional quality in all work product we produce has always been core to our identity. The time and dedication required to maintain our market expertise could be seen as a brake on our ability to acquire new clients. We believe that any such relationship is transitory and that our long-term growth – as well as our individual job satisfaction – is dependent on maintaining our expertise for the benefit and retention of our many existing clients.
Trust. The third and final pillar is the uncommon trust that our clients have in CES. As every new CES team member hears during the leadership portion of their onboarding training – we will always act in the best interest of our clients. CES sells advice, opinion, information, and analysis - the value of each of these items is entirely dependent on the trust clients have in us. Initially, for new clients, this trust often starts with a referral from an existing client. Over time we must continually earn this trust with each of our actions for every client. Trust that is built over years can be lost in an instant. Luckily this is an exceedingly rare occurrence and many of the clients that signed on to work with CES in the early 2000s are still with us today. Maintaining this trust is also personal. No one, least of all either of us, has any interest in working at a company that is not trustworthy.
The purpose of CES has not changed over time and the pillars of Independence, Expertise and Trust - around which we have always operated - have not changed as we have grown. The CES story, however, has gotten considerably longer as we have evolved our capabilities in response to changing market dynamics, greater internal capabilities, and new client needs. To continue fulfilling our purpose we must continually add new chapters by thinking creatively about future market dynamics and how CES can adapt to provide the most value to our clients.
Every one of our team members is critical to how clients experience CES. It takes collective action from all of us to keep CES at the forefront of our field. The CES team did a wonderful job in 2021 – we know this is true as we retained close to 100% of our clients, extending contract durations and expanding scopes of work. This despite the ongoing challenges our clients have faced during the covid pandemic and some extreme market volatility to end the year. I have asked several clients if they would act as references this year and – without exception – the answer is some version of: "Yes, CES is fantastic, and I would be very happy to be a reference. We really appreciate all of the good work CES has done for us."
We have also been contacted this year by several former client contacts, each interested in hiring CES at their new companies. This is the ultimate complement and shows the level of trust these people have in CES, vouching for our value only weeks or months into a new job. [Redacted] College falls into this category. A long-time contact from [Redacted] University moved to [Redacted] and was instrumental in CES starting a new full-service scope of work with the College this year. [Redacted] is another example – CES started work in November for this California based cyber security firm after a long-time contact at [Redacted] moved jobs. One prospective client told us that she wanted a proposal for sustainability related services as her fortune 500 company was not getting the same level of service from [Redacted] – one of the Big Four accounting firms – as she was used to getting from CES at her last company.
The lesson is clear, as long as we continue to take exceptional care of our existing clients, our future will remain very bright. Thank you for your trusted partnership and for making CES The Independent Energy Experts. We are very excited about the year ahead and we look forward to working with each of you in 2022.
Best wishes to you and your families this New Year.
Regards,
Andy & Rich
Photo by: Petrovv