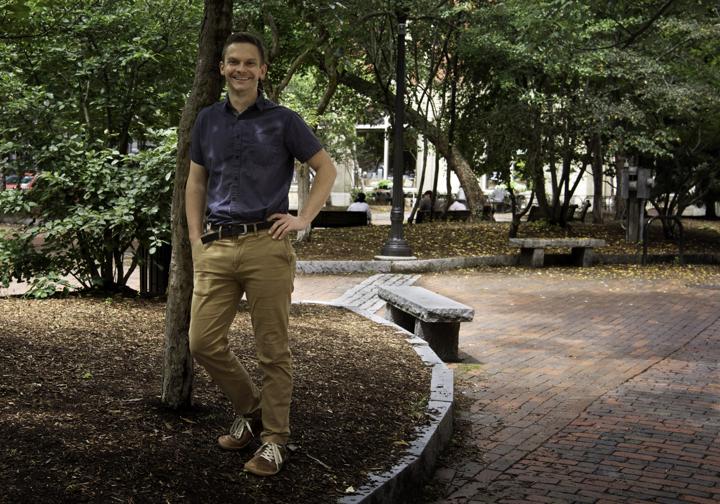 On the day of his Spotlight interview, Simon Pritchard, Managing Director of Analytics, celebrated his 7th anniversary with CES. It proved to be a poignant day for Simon as he reflected back on his time with CES and as he looks forward to future days, both professionally and personally.
Simon's role at CES is multifaceted. On a daily basis, he assists full-service and consulting clients in the corporate, higher education, and public sectors on various projects ranging from market and regulatory monitoring, energy budgeting, and demand management to renewable energy project evaluation and sustainability planning. He also oversees the competitive bid process for the sale of clients' Renewable Energy Credits. Finally, he is a guiding force for CES' growing team of Analysts, and he enjoys passing along the wisdom that helped to build his knowledge and mold his career to date.
Simon partners this month with Tarik Cetin, CES Energy Analyst on a blog piece titled REC Markets & Trends. It's an informative and insightful piece on the REC Market (Compliance and Voluntary), types of RECs and requirements across the U.S., and includes a forward outlook. You won't want to miss it!
Read on to learn more about Simon, gain a sense of his depth of character, and his experiences in the energy industry and with CES.
How did you first get involved in the energy sector? And why energy?
I have been interested and passionate about environmental issues since middle school. I knew throughout my high school and college years that something within the greater environmental field was where I wanted to spend my career. It wasn't until my junior year of college, however, when I took a course called "The History of Energy" that my awareness of the energy sector took shape. As I considered my post-graduate opportunities, I was certainly casting a wide net within the environmental and energy spaces. It so happened that Competitive Energy Services was one of the organizations that popped up on my radar. I knew that I wanted to be in Maine, and I was fortunate enough to connect with a Bowdoin College alum, who put me in touch with Andy Price, President & COO of CES. That was the starting point and I've been with CES ever since. It was a field I knew was important but not something I knew I was passionate about until I was in it.
What was your initial impression of the energy field and how has your viewpoint changed over the years? What have you learned?
My initial impression of the energy field was that at its core was a simple concept built on the need to transition from fossil fuels to renewable energy. When I first started working at CES, this assumption was immediately challenged by the incredible complexity that exists to achieve that goal. 
The energy field is an interconnected network, a web of policy, economics, science, and technology. In the last 7 years, I have grown to understand the interdependencies that exist within the field and have learned to keep an open mind about continuing to discover new connections.
What has surprised you most about working in this industry?
What initially surprised me about the energy industry is the diversity of expertise that exists within the field. There is an immense opportunity to choose a path that best matches your own unique interests and skillset. One can find a very specific niche within the energy field and become a deep subject matter expert. CES is unique in that we possess both depth and breadth of subject matter knowledge, and that serves our clients well.
As mentioned at the start of this article, you just celebrated your 7th anniversary with CES (Happy Anniversary!). How has CES influenced your life and professional trajectory? What keeps you engaged and why CES? And what do you enjoy most about your work?
CES has encompassed my entire professional career to date, and my time here has influenced my professional trajectory and my life as well. I have grown up and grown professionally with CES.  So much of the professional growth that I have undergone is through my interactions with amazing colleagues and clients with whom I have had the privilege to work. One of the things that appeals to me about working at CES is the interdisciplinary nature of the work, and how we are challenged to keep learning new things. The other aspect of my work that I love – and I have been so lucky to grow within CES in this way – is the opportunity to support other analysts in their work and growth at CES. I find it incredibly rewarding to help others succeed.
The work that we do at CES has a real impact. That ranges from helping a university figure out what their energy costs for the next fiscal year will be, to laying out a corporation's emissions reduction strategy for the next 10 years. Helping people and solving problems are the two defining aspects of my work that I enjoy.
Share about someone who has influenced you and has supported you over the years?
First and foremost, my partner Adrienne who is a science educator and who now works at the Maine Mathematics and Science Alliance. She is endlessly challenging me and teaching me new things. In the 8 years that we've been together, perhaps the biggest thing she's really helped me with is empathy – and basically approaching everything in life with empathy. That has made my life infinitely more rewarding.
Someone else that I would like to mention is our late colleague Peter Bartlett, who really modeled a balance of empowerment and support. He would ask me – a fresh face and as someone who is quite shy – "what do you think?" It was always impactful to hear him ask for my opinion or my expertise. It gave me a lot of confidence and at the same time, he was there to provide a steadying hand when needed. Those are two qualities that I am aspiring to better embody.
What would you/do you tell other young professionals who are trying to understand the energy markets and who wish to enter the field?
Be curious. Don't worry if you don't know everything right away; no one expects you to. Embrace being wrong and learn from your mistakes. If you can go in with that learning mindset and growth mindset, you will be in a great place to succeed.
What do you do when you're not working? What are your interests?
I love to be outside, as I'm sure everyone says. It's the classic "living in Maine" response. In all seriousness, I love to be outside. My partner Adrienne and I love to take our 10-year-old rescue puppy on hikes in the woods. I'm a big fan of local trail networks and having access to green spaces. I'm always trying to utilize those local networks as much as possible. I love to read. I'm one of those people who goes to the library, gets too excited, and comes out with six books and not enough time to read them before they're due. I love to cook and to share some quiet, real conversations with friends. I also watch way too much TV.
Photo by Nina Callanan