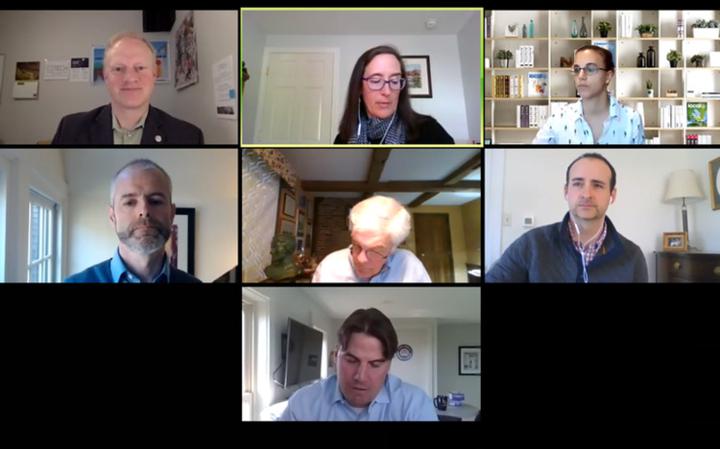 Energy industry experts say, unsurprisingly, that energy consumption in Maine and around the world has plummeted since the start of the pandemic.
But they agreed that recovery could mean new opportunities, especially in the renewable sector, as people under stay-at-home orders become increasingly aware of their energy consumption.
Environmental and Energy Technology Council of Maine, or E2Tech, convened a Zoom panel Wednesday morning to provide an energy markets update. E2Tech is an environmental, energy and clean technology business and economic development organization in Portland.
SIGNIFICANT VOLATILITY
COVID-19 is having significant worldwide impact on energy markets, said Andrew Price, president and COO of Competitive Energy Services, an energy consulting firm in Portland.
Significant volatility is expected as long as there's uncertainty about how and when economies will reopen, he said. A recent international survey showed a 6% drop in primary energy use for 2020.
Six percent might not sound like much, but the rate of change since 1900 is relatively unprecedented, he added. Breaking out the U.S. and Europe, it's projected those regions will see a 10% decrease, due to their economies depending more on service sectors, which are harder-hit by the pandemic.
Demand for oil is most impacted due to global transportation lockdowns, he said. That's followed by coal consumption, primarily due to reductions in energy usage around the world, particular in coal-heavy grids such as China and India. 
On the other hand, he added, renewable are seeing an increasing role in energy portfolios, due to  new projects that continue to come online and the sector's relatively low operating costs.
ELECTRICITY
With regard to electricity consumption during the shutdowns, there's been a wide range of impacts. Consumption dropped 10% in Germany, 20% in the United Kingdom, France and Spain, and almost 30% in Italy. Overall, he said, it's projected that global electrical consumption will see a 5% decline for 2020.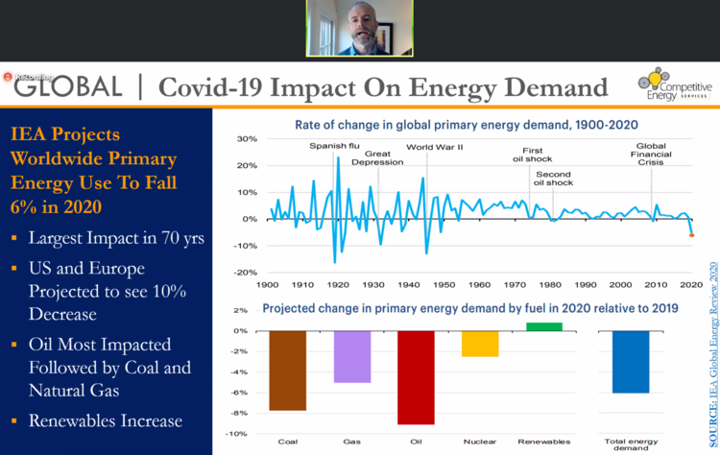 In the U.S., he said, declines in electricity consumption for April ranged from a 9% reduction for California to 6% in New England.
For a closer view, he found that weekday electricity consumption in April was less pronounced during the morning due to business closures. 
NATURAL GAS
U.S. natural gas production is showing steady declines, Price said. That's due to the curtailment of the oil sector, which ha been much more impacted by COVID-19 drops in demand than electricity or gas. Oil producers are curtailing investment and taking wells offline, which is having an influence on natural gas markets.
"As oil production slows, there's less associated natural gas that comes up with the oil and we're starting to see that impact in the natural gas markets," which is down about 5% since the beginning of April and is projected to decrease 10% over the next month or two, Price said.
As natural gas supply comes offline, natural gas pricing will be impacted moving forward, he said. Natural gas futures for 2021 contract pricing is rising due to expected declines in associated natural gas production, he said. Still, he added, price increases are relative to historic price lows seen before the pandemic. However, price increases are expected to be limited by factors that include a surplus of natural gas in storage and the curtailment of domestically produced liquefied natural gas shipments to Europe and Asia. 
The electricity generation mix in New England has been changing over the last decade, Price noted. Once primarily coal and oil, over the past decade the mix has shifted primarily to natural  gas, nuclear and renewables. 
SOLAR
Fortunat Mueller, president and co-founder of ReVision Energy, said that, in February, he was primarily concerned about continuity in the supply chain for solar energy installations. China, he said, is a major part of the solar supply chain. It's turning out to be a non-issue, for now, because the supply chain coming into the U.S. is relatively robust, he said.
"We haven't had any disruptions," he said. In fact, there's a bit of an inventory glut as supplies pile up in distributor warehouses. 
As an essential business, ReVision has continued construction of its commercial projects but curtailed residential projects in April and May in order to keep customers and staff safe, he said. 
On commercial projects, he explained, solar work is pretty easy to do in a socially distant and safe way. It's mostly done  outside with relatively small crews that can stay socially distant. However, operational changes include measures such as limiting staff to one installer per truck. 
Customer interaction has also changed. The business already had a robust digital footprint, but that was typically complemented with in-person events such as open houses. 
"We had to learn to do those things online," he said. 
Sales volume dipped 30% to 40%  at the start of the shutdown but has steadily increased in the past few weeks, to a decrease of 10%, he said. 
In March and April, the company saw a 400% increase in interest in residential battery storage projects, partly attributable to power outages in Maine but also likely due to increased homeowner interest in making their homes resilient in uncertain times, he said.
If there's an optimistic takeaway, he said, it's that there may be opportunities for the future as people  think about energy consumption. 
"There is an opportunity as we come out of this crisis, in particular as we think about economic recovery," he said. "The clean energy sector is well-positioned to be part of the recovery."
THE LONG VIEW
"When I was thinking about COVID-19, I was thinking we're in the first inning of a long game," said Steve McGrath, Chief Financial Officer of H.A. Mapes and a member of the Maine Energy Marketers Association
"If you think in the medium term, we'll have to assess the new normal," he continued. 
For example, he said, gasoline use has dropped 40% and oversupply has resulted in plummeting prices.
"How do we adapt to this as an industry?" he said. "We have to be patient and let the future emerge. If gasoline demand is going to be that much lower for that much longer, the industry has to adapt to that. Safety is going to be first and foremost."