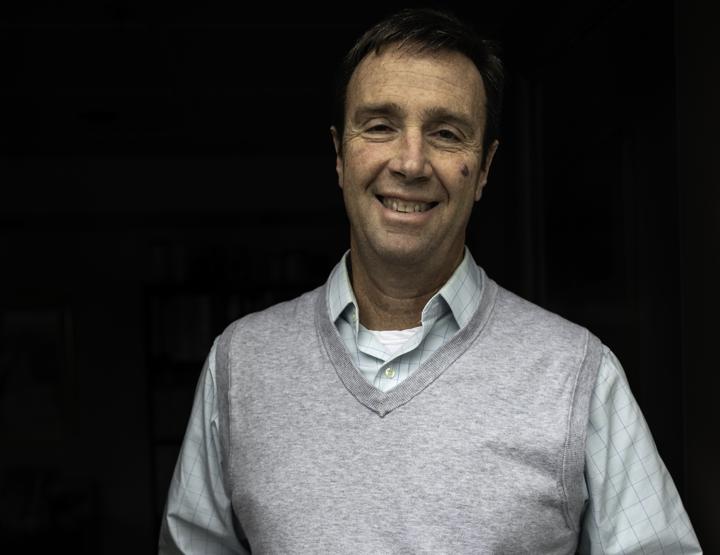 The January 2023 Insights blog was written by Keith Sampson, CES' Senior Vice President, Energy Services. Keith has more than 20 years' experience in the energy and power industry, and he shares that expertise daily as he advises CES commercial, educational, and industrial clients in New England as they make energy-related decisions that impact their businesses. Over the years, Keith built and currently manages a team of energy services professionals who collectively advise and help deliver winning solutions to CES clients who rely on us every day to help them navigate the ever-changing landscape of the energy market.
As we start the new year, Keith shares his thoughts in a Competitive Energy Services' interview about the energy industry, both short- and long-term outlooks. He also reveals a bit about himself and his life outside of the CES workplace.
"Keith Sampson has been a cornerstone of CES operations for 15 years. Keith's passion for helping CES clients is evident to anyone that knows him. His energy and work ethic are legendary within the company. Keith always goes the extra mile (and sometimes completes a full marathon) to provide clients with the best available information and assistance with time-sensitive decisions. This is especially critical when energy market volatility is high, as it has been over the past few years. As Senior Vice President at CES and head of our Energy Services Advisory team, Keith leads by example and is a mentor to his colleagues and a trusted partner to our clients. Keith is integral to the CES foundation and our growth and success over the past 15 years is built upon his many contributions to our company and our clients." – Andy Price, President & COO
Join us in congratulating Keith Sampson on his milestone 15th anniversary!
How did you first get involved in the energy sector? And why energy?
Before CES, I worked in the industrial chemical business and smarter use of chemicals is a way to save energy. So, indirectly, I understood the impact of energy costs. I didn't choose to work in the energy sector, I chose to work for Competitive Energy Services. When I met Rich Silkman, Andy Price, Mark Isaacson, and the rest of the team at CES, I knew this was a company that I wanted to work for. I could see where I could apply my passion for advising and consulting with customers to reduce costs and help with climate change. 
What was your initial impression of the energy field and how has your viewpoint changed over the years? What have you learned?
I think I knew from day one that the energy field was a very dynamic and ever-changing landscape. Technology and market changes are what really drives this business, and I don't think that's ever going to change. I spend a lot of my time analyzing market trends and data to try to understand where prices are headed. What I've concluded is, while these markets are primarily supply and demand focused, energy traders are what causes price to change, but consumers are what causes technology to change.
What has surprised you most about working in this industry?
Corporations, institutions, and individuals make poor decisions when they don't have all the facts. That's sort of obvious in life. What does surprise me is how uninformed many people are about energy and energy markets. And as a result, how many mistakes are made. This might sound like a plug for hiring a consultant, but truthfully my general observation without getting into too many of the specifics….
These markets are extraordinarily complex and it's not just the market, it's the regulatory, the utilities, and the continuously changing landscape. It's hard enough to predict what's going to happen next year, but to make a decision about a capital project or a long-term commodity strategy, you need to predict the next two decades. This is when having a trusted advisory – a specialist in the energy space – makes all the difference. This is my genuine experience.
You recently celebrated your 15th anniversary with CES (Happy Anniversary!). What has kept you engaged for so long and why CES? And what do you enjoy most about your work?
The answer to this question ties back to my answer to the previous question. I enjoy helping people make good decisions with good information. And even more, I enjoy stepping back months and years later and looking at the results of those decisions – which had risks and unknowns – and seeing how much money, time, and carbon people are able to save as a result of having good advice – our advice.
Share about someone who has influenced you and has supported you over the years?
To answer this question, I need to mention a few people. For sure, Rich Silkman, Andy Price, Mark Isaacson, and a number of the other great people at CES have significantly influenced my career.
Two other people that have had a major influence are Tom Dryer, who retired from the University of Massachusetts Lowell (UML) in 2019 and John Baker, who retired at the end of 2022 from the University of Massachusetts Chan Medical School (UMMS), who I will really miss working with. These two people helped mold the way I manage my business every day. John and Tom come from a similar background, having both served in the Navy and they have a certain approach to managing the operations of the university. They have a way of sifting through mounds of details in order to identify the most important factors needed in a decision. They are extremely good at empowering and utilizing their staff and consultants. Both men understood from early on the best way to utilize CES' knowledge, experience, and information to make smart decisions. They ask the right questions and keep you on your toes. They ask for information in the right way, and they constantly push CES to deliver extremely detailed information in a practical and understandable way. By reacting to their needs and challenges, CES and I have become better consultants. Many of the reports that CES delivers on a daily basis – across our client base – are the results of our partnership with the teams at UML and UMass Chan Medical School. 
Thank you, Tom and John. John, I'll miss working with you. Enjoy your retirement and time on the slopes mid-week.
What would you tell young professionals who are trying to understand the energy markets?
On the practical side, know that markets will always go up and down, but eventually, seek an equilibrium based on supply and demand. Irrational markets eventually become rational – abnormal highs and abnormal lows eventually seek the middle.
What do you do when you're not working? What are your interests?
I have a passion for the outdoors and for the water. My favorite place is on the slopes or on the ocean. Each of us has an opportunity in this business to do our part to slow climate change so that we can leave the earth in a place so that it can be enjoyed by future generations.
Photo by Nina Callanan