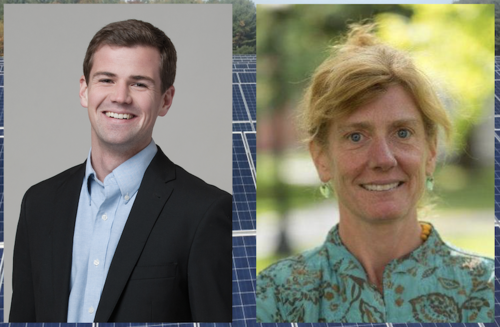 By Rebecca Goldfine
While Bowdoin has been carbon neutral since 2018, the College has recently been offsetting campus emissions with wind power from Texas.  But its intention has always been to offset its emissions with local renewable energy, so it has been exploring Maine options ever since.
Now Keisha Payson, who heads Bowdoin Sustainability, said she's excited to provide details on one of these Maine-based projects. Meanwhile, a second big project is going through the final planning stages.
The news is that Bowdoin has joined a Maine consortium (made up of 23 schools, towns, and businesses) that has signed long-term energy contracts with 33 new renewable projects in the state. In return, the College can expect a savings on future electricity bills while it retains the environmental RECs, or renewable energy credits.
The CES Maine Distributed Generation Consortium was made possible by the expansion of Maine's net energy billing program in 2019. The program is meant to spur the development of renewable energy.
"It's an incentive," Payson said. "Maine has passed legislation that increases the state's renewable portfolio standard, requiring 80 percent renewable energy on our grid by 2030, with an even more ambitious goal of 100 percent renewable energy by 2050. The net energy billing program is a great incentive to help get us there."
Portland energy consultancy Competitive Energy Services (CES), helmed by Bowdoin graduate Andrew Price '96, oversaw the formation of the consortium. Several Bowdoin graduates work for the company's analytics team, including Managing Director of Renewables Matt Gamache '13, who played a key role in bringing the consortium to fruition. CES not only pulled together the consortium members, it also sent out requests for project proposals from energy companies and vetted and selected the finalists.
The reason for gathering twenty-three organizations in the deal was both to spread the risk and to "have a strong group, from a credit perspective, that was attractive to renewable-energy developers," Gamache said.
The consortium members are all financially stable and use a significant amount of electricity. "As a result of our combined bidding power," Gamache continued, "we got the most financially competitive projects and also got access to projects that are furthest along in terms of development." 
In the end, CES chose seven energy companies out of a pool of eighteen applicants. Each project will generate up to 5 megawatts of power (the cap set by the state for smaller-scale energy projects). Although most of the new development will consist of solar arrays—sized around twenty acres apiece—a few are hydropower projects. 
The projects are set to go online next year—2022 by the latest. If any of them fall through for any reason, Bowdoin only loses 3 percent of its expected financial and environmental benefits, Payson emphasized. "The point is to minimize risk to any one of these organizations," she said.
If each project is successful, together they will generate more than 210,000 megawatt hours per year, or 1.2 percent of the total electricity consumed in the entire state, according to CES. 
How Bowdoin Supports Renewable Energy and Saves Money
The net billing program basically works like this: companies build solar power, hydropower, or wind power capacity in the state and push the energy directly onto the power grid. In exchange, a utility—like Central Maine Power—issues a credit on an off-taker's invoice that looks like a negative line item and reduces the total amount owed on the bill.
Once it has received its credit, Bowdoin pays the renewable project developer at a discounted rate. In this way, Bowdoin saves (albeit, the College has to process two financial transactions), and a renewable energy project that wouldn't have been able to monetize this utility bill is able to profit from its investment.
Bowdoin's share of the consortium is only 1.2 percent (compared, for instance, to the biggest off-taker, Nestle Waters North America, whose share is 14 percent). This amount is just enough to get the College to its goal of sourcing all of its electricity from Maine-based renewable sources. "This is just a small slice of our overall energy strategy," Payson said. "And it was too good a financial and environmental opportunity to overlook."
Gamache agreed. "We used Bowdoin's participation in this consortium get us over the finish line," he said.